Brightness and lighting: How powerful should my LED strips be?
Did you know that light emits in lumens? That means the more lumens an LED emits, the more a room will light up. So the question you'll have to answer is: how big is my room and how many lumens will I need to light it?
Light is the measure of brightness as perceived to the human eye. Due to incandescent illumination, we are all used to using watts to measure the brightness of light. Today we use lumen. Lumen is the most important variable when choosing which strip of LED light to look at. When comparing light output from one strip to another, keep in mind that there are different ways to say the same thing.
The questions you should ask are "Lumens why? By foot, subway or reel? How long does the reel last?
Different projects require a certain amount of brightness to achieve a desired look. Our advice is to always go brighter than necessary and add a fader. Running your LEDs below their maximum power and brightness can also increase service life.
Here are some reference figures, depending on the type of surface you're lighting:
20 lumens / square feet for normal lighting (floor).
30 lumens / square feet for tables and counters.
50 lumens / square feet for reading and other tasks.
Example area: Surface type Estimated lumens required
15 x 20 feet (300 square feet) Living room (floor) 6,000
 4 x 4 feet (16 sq ft) Dining table 480
3 x 3 ft (9 square feet) headlamp (reading) 450
Of course, you should combine the lighting levels in the rooms where you use different areas for different purposes. So, if the example in the previous room has its 5 x 3 foot computer desk in one corner, the room (300 square feet) will need about 6,000 lumens, with an additional 750 lumens for the desk (15 square feet).
If walls, furniture, or other surfaces are particularly dark colors, you should increase the brightness of your lights. And your own preferences are also important. Personally, I prefer things to dim a little more, but if you want more light, you'll want to add another 10 or 20% to the numbers above.
Strip lights are divided into three types:
Highlight: for functions, types, screens.
Work / Home – for living rooms, workspaces, home lighting.
Strong – for daylight applications.
Important notes before starting your project with LED strips:
Step 1: Get a clear view! Because each project is unique, there is no all-in-one solution. Different projects require different types of LED strips.
1. What are you turning on?
2. Where will it be installed?
3. Do you want to dim the lights or control them with a remote control or a wall switch?
4. What general aspect do you want to achieve?
5. What color do I need?
6. What materials am I lighting up?
7. Are there other lights in the area and, if so, what color are they?
Colour temperature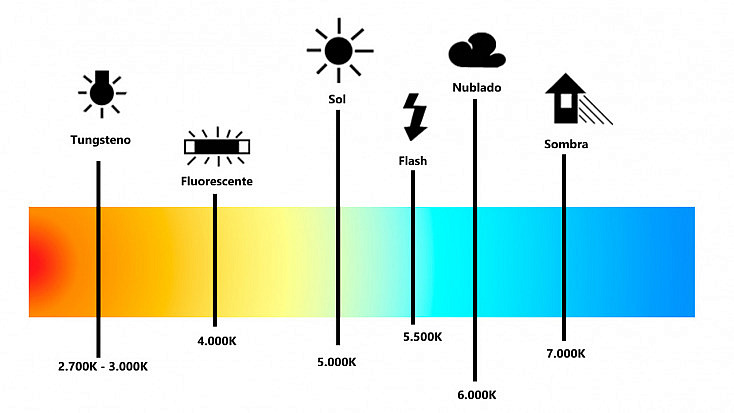 CCT (correlated color temperature) refers to the color temperature of the light, measured in degrees Kelvin (K). The temperature rating directly affects how the white light will look; It goes from cold white to warm white. For example, a light source that has a rating of 2000 – 3000 K is considered as what we call, warm white light. Warm white light looks very orange and/or yellow.
Increasing kelvin grades will change the color from yellow to yellowish white to white and then to bluish white (which is the coldest white). Although variable temperatures have different names, it should not be confused with real colors, such as red, green, or purple. CCT is specific to white light or rather, color temperature.
Important:
Be careful if the company does not indicate the light output. You'll have no idea what the brightness will be until I buy them. If quality is important to you, always request test data sheets from any company to verify your "lumen output" claims.
Using Lumen as the only comparison can be tricky! Some brands overload their LEDs to make them brighter. Unfortunately, this will cause them to fail faster and burn.
TYD ELECTRONICS