How to light up and decorate a pool with LED
Summer means it's time to splash in your pool. Whether it's a pool buried or above ground level, there are plenty of hours to spend soaking up the sun this summer floating around the pool. But who says the party has to end when the sun goes down?
Pool lighting offers you a safe way to see around your pool. Whether you're swimming at night or want an extra safety feature to avoid accidents, pool lighting is the answer. 
The pool lighting adds enormously to the style of your pool and is an investment, so it is important to choose accessories that complement your exterior décor as well as stay within your budget. For both buried pools and elevated pools, there are plenty of options.
Depending on the pool lighting style you choose, it might be better to call a professional who can install your accessories safely.
Pool lighting costs
If you already own a group or are considering installing one, you are likely to be aware of the associated costs. The average cost to maintain a pool is $246, and most homeowners spend between $165 and $276. It's a good idea to create an annual pool maintenance budget to help with any maintenance costs.
The lighting of the pool can be one of them. While installation can be expensive depending on the style you choose, annual maintenance can be as simple as a light bulb change. Pool lighting facilities can range from $450 at the lower end to $1,700 at the top end.
LED pool lights
If you are looking for a durable and eco-friendly option for your pool lighting, LED lights are the way to go. LED lights are energy efficient and can help you save money on your electric bill. LED pool lights can be used in both upper and indoor pools.
LED pool lighting options above the ground include those that hang from the edge of the pool, so you can perform your pool lighting installation. The LED lights of the buried pool will need help from a pool professional as it may require complicated wiring.
Solar floating pool lights

Another eco-friendly option is the lighting of solar pools. These lights come in a variety of styles. One option is the solar pool lights that connect to the side of the pool, pointing down on the water to illuminate the floor. This works great for elevated pools.
Increasingly becoming popular among owners are the floating pool lights. They sit on the water to decorate the pool and light up the pool floor. If you're looking for decorative pool lights, solar floating balloons come in a variety of colors to make your pool look simply magical.
Fiber optic pool lights
If you want your pool lighting to be subtle but luxurious, the pool's fiber optic lighting will provide a soft light that is easily distributed throughout the pool. They are installed as a cable with a light bulb in an overwater box, making the bulbs easy to change. However, fiber optic pool lighting does not last as long as other options and can be expensive.
Pool lights that change color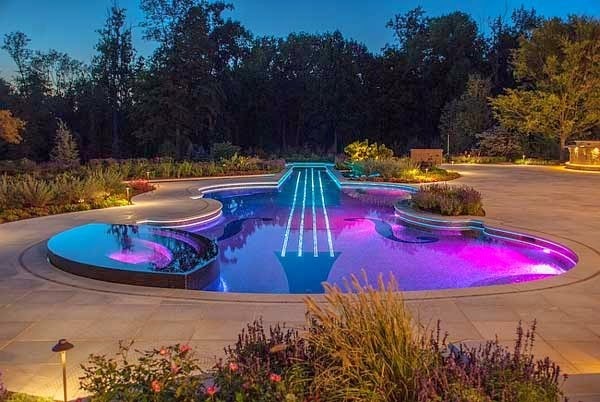 Now, you can enjoy the look of your pool both in and out of the water with the color-changing pool lights. Most types of pool lighting will have a color change option. This can add a beautiful look to your pool.
TYD ELECTRONICS